COVID-19 Deals & Options
Buy Online – Free Shipping
Shop our online storefront and get free shipping on 3 bottles or more with regular volume discounts!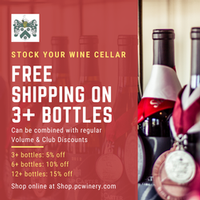 To help keep your cellar stocked we are offering free shipping for any purchase of 3 bottles or more. But that's not all, in addition, we are making an exception to our normal rule and allowing you to combine this with our normal volume and club discounts.
3+ Bottles: 5% off
6+ Bottles: 10% off
12+ Bottles: 15% off
Shipping may not available to all states. Discounts apply automatically at check out. If you are a club member you must log in to your account to receive club discounts.
Join our Ambassador Wine Club to get 20% off Bottles and 50% off Cases of Wine Today and Every Day! More Info Here.
---
Buy a Gift Card Now to use Later & get 20% extra dollars!
Right now we are offering a special on gift card purchases. If you buy a "Future Gift Card" now you will get a bonus 20% added on to your card value after September 1, 2020. The card can be used (anytime after September 1st) for instore and online purchases.
Once purchased, gift card redemption code and information will be emailed to the purchaser.  Gift card code may be used in-house or in our online store.
---
Curbside Pick-Up
To take advantage of Curbside Pick-up, you can either purchase your wine ahead of time on our website* or call 540.364.1203 to place your order. Then when you arrive, let us know you are here and we will bring your order out to your car.
*If ordering on our website, please select "Curbside Pick-up" under the shipping options at checkout.
---
Free Delivery to Your Door!
For Residents of Select Counties
We are now offering Free Delivery to select counties with the purchases of 6 or more bottles. If you live in one of the following counties we will drive your order directly to you.
NOVA Area
Fauquier County
Warren County
Prince William County
Rappahannock County
Fairfax County
Central VA Area
City of Richmond
Henrico County
Hanover County
Goochland County
Caroline County
Purchase on our online storefront and select "Delivery" at checkout or you can call us at 540.364.1203.
(Valid ID of 21 years of age or more required)
---